Tomorrow is Leap Day.
That extra day we are given, only every four years. I have been thinking about what I can do to make this
extra day
an
extra fun day
for my family
.
I started with the obvious choice - frogs. But everything to do with frogs is green, and with St Patrick's Day in the horizon I decided to reserve all the green for then.
*
Then I thought about actual leaping.
How fun would it be to have a Leap-O-Thon?
Games and activities with a lot of leaping, jumping, hopping. Using the trampoline, playing hop-scotch, jumping ropes, playing leap frog, doing the bunny hop, etc.. Even if we don't have an actual Leap-O-Thon, we will definately have to incorporate something active!
*
Maybe we have a contest to see who can use the most phrases throughout the day with
"leap"
in them... like
"Leapin' Lizards!"
from Annie -
I like the way Carol Burnett says it as Miss Hannigan!
:)
Or
"By Leaps and Bounds",
"Look before you Leap",
_________________
(any more ideas?).
:)
*
Or, a Quantum Leap marathon.
Did any of you watch that television series?
Sam Beckett, the scientist, trapped leaping through time, landing in a new time period and different body each week.
I used to love that show!
(watch full episodes
here
)
*
But, it seems that the majority of my ideas are building around the quote,
"One Small Step for Man, One Giant Leap for Mankind"
, by Neil Armstrong - famous words as his left boot touched the surface of the moon.
*
I'll give you details - after the fact. :) But, here is a
teaser
of how I plan on celebrating Leap Day this year:
*
Moon Inspired GOODIES
all things MoonPie
here
purchase here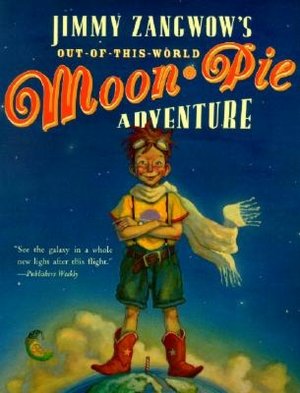 Jimmy Zangwow's Out-Of-This-World MoonPie Adventure
______________________________
*
ON A SPIRITUAL NOTE
I wanted to share a talk I came across:
One Small Step For A Man; One Giant L

eap

For Mankind
, by
Elder Carlos E Asay, General Conference, April 1990.
It would be a great resource when teaching about the restoration of the gospel and Joseph Smith.
*
Here are a few excerpts from his talk to give you an idea of the wonderful message:
On July 20, 1969, astronauts landed on the moon, a planet located some 239,000 miles from the earth. Millions of people the world over witnessed this historic event on television and stared in amazement as the lunar module came to rest on the moon's surface. All were thrilled when Neil Armstrong exited from the space craft and announced: "One small step for a man; one giant

leap

for mankind."

Joseph Smith's prayer and first vision in 1820 were no small things, even though they began as

"one small step for a [young] man

." Over the years they have proven to be "

one giant

leap

for mankind

".

Joseph did not emerge from the grove with lunar rocks in his pocket or with moon dust on his shoes. He emerged with a changed countenance and with a gold mine of truth lodged in his mind and heart.

His prayer was -

one small step for a [young] man, [but] one giant

leap

for mankind. [It proved that] There isn't a thing that man cannot do, [if he has faith, trusts in the Lord, and] If he takes one small step at a time.