There's been a topic on my mind for quite some time now. Self Image and Eating Disorders: Anorexia and Bulimia. I'm not sure why this particular topic keeps knocking at my mind's door. I am unaware of any young woman who is currently struggling with a specific eating disorder - though self image seems to be a common struggle for many.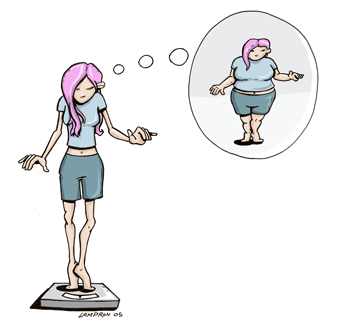 My question: "How do we as mothers and leaders instill in our daughters and young women a knowledge that they are beautiful and that they are in control of their bodies?"
Whatever the reason, I am opening the discussion. Maybe this is for you, for your daughter, or one of your young women. I don't know. But, there's a reason it has been on my mind - I just felt like it was time to share.
The following
WARNING SIGNS
(by Lynn Carol Maynes, Program Specialist for LDS Family Services)
were found in the April 2006 Issue of the New Era, "My Battle With Anorexia":
*
ADDITIONAL RESOURCES
Eating Disorders: A Deadly State of Mind,
Janet Thomas, New Era, February
My Battle with Anorexia
,
Katie Mae Hess, New Era, New Era, April 2006
The Body, A Sacred Gift,
Diane L. Spangler, Liahona, July 2005
Healing Soul and Body
,
Robert D. Hales

, Ensign,

November 1998
*
SIDE NOTE
The irony here is, as much as it has been on my mind, I am probably the last person to lead the conversation. Even as an adult I find it very difficult to find moments where I feel beautiful - struggling each day to take control of my own health in a positive way.
If I can find the words, I may share the story of my own struggles as a young woman in a later post - but, only with the hope of helping someone else.